07 Apr 2022
34th Traveling Exhibitions Program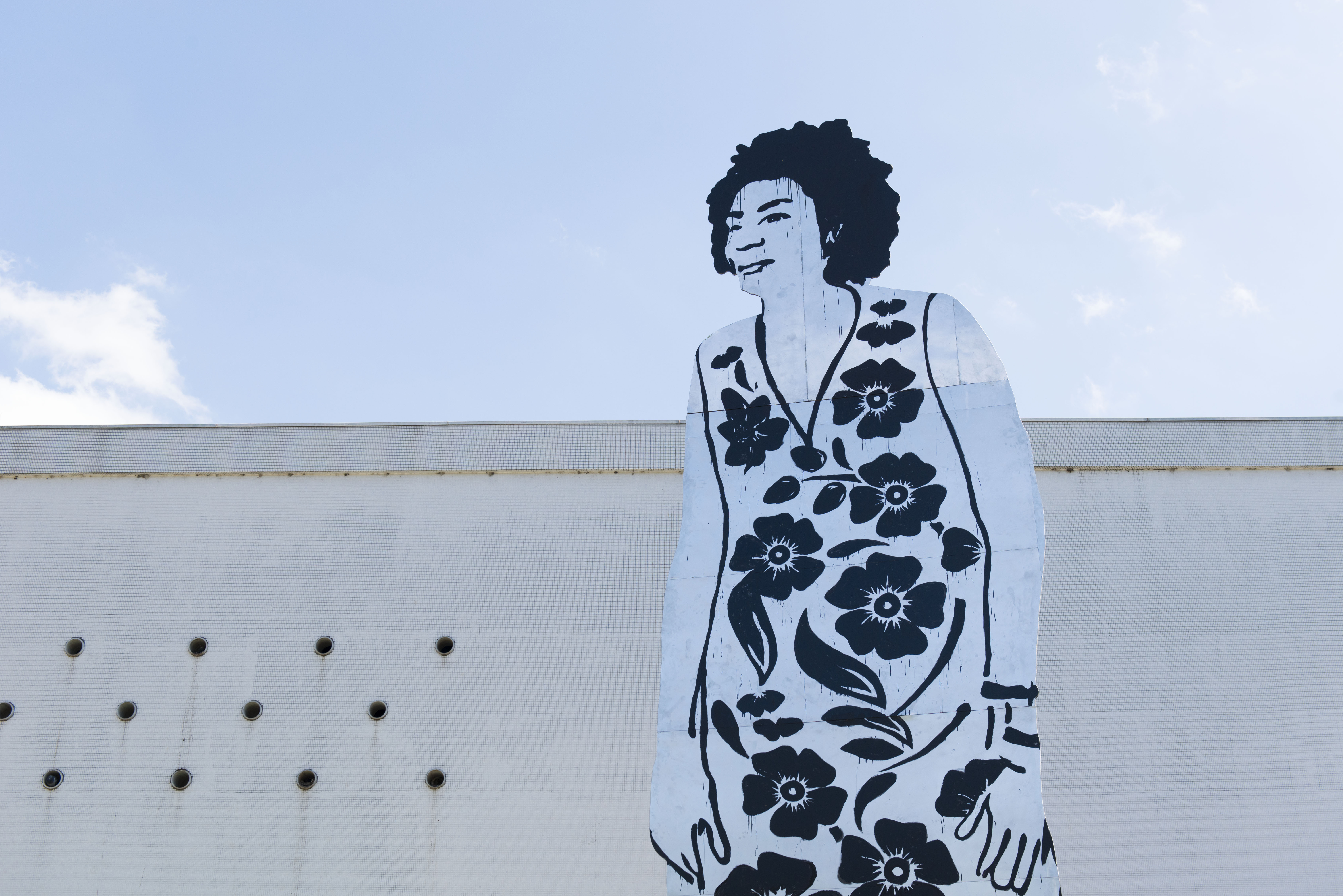 The 34th Bienal's website now has an exclusive area that shows the details and images of the exhibitions
In April, the traveling exhibitions program for the 34th Bienal de São Paulo – Though it's dark, still I sing began. The 34th Bienal's website now has an exclusive area that shows the details and images of the exhibitions. Click here!  This year, the first city to receive the tour was São Luís (MA), with exhibitions at the Vale Maranhão Cultural Center and Casa do Maranhão. For 2022, the traveling exhibitions were designed based on statements: objects or intangible elements used by the curatorship to bring together works and artists, creating thematic axes without reducing, however, the interpretations to a single reading.
The part of the show in the city is organized from the statement Portraits by Frederick Douglass and the artists whose works participate in this tour are: Alice Shintani, Arjan Martins, Daniel de Paula, Deana Lawson, Frida Orupabo, Neo Muyanga, Noa Eshkol, and Tony Cokes (at Casa do Maranhão) and Beatriz Santiago-Muñoz, Daiara Tukano, Frida Orupabo, Gustavo Caboco, Jaider Esbell, Paulo Kapela, Paulo Nazareth, Uýra and Victor Anicet (at Centro Cultural Vale Maranhão). The exhibition is open until June 12. 
The cities of Campinas and São José do Rio Preto, in the interior of São Paulo, also have touring exhibitions. Those who check out the show at Sesc Campinas will find works by artists Abel Rodríguez, Adrián Balseca, Alice Shintani, E.B. Itso, Frida Orupabo, Gala Porras-Kim, Gustavo Caboco, Hanni Kamaly, Jaider Esbell, Sebastian Calfuqueo, Sung Tieu and Victor Anicet, who relate to the atatement Cantos Tikmũ'ũn.

Sesc Rio Preto, receives works associated with two different statements: A image by Coatlicue and Hiroshima mon amour by Alain Resnais, with works by Claude Cahun, Daiara Tukano, Gala Porras-Kim, Haris Epaminunda, Jungjin Lee, Mariana Caló and Francisco Queimadela, Marinella Senatore, Melvin Moti, Uýra and Victor Anicet.
In addition to São Luís, Campinas and Rio Preto, six more Brazilian cities and one abroad will receive shows from the 34th Bienal this year. They are: Belo Horizonte (MG), Brasília (DF), Campos do Jordão (SP), Belém (PA), Fortaleza (CE), Rio de Janeiro (RJ) and Santiago (Chile).
34th Bienal de São Paulo -  Though it's dark still I sing
Traveling exhibition program
Centro Cultural Vale Maranhão 
São Luís (MA)
April 12 – June 12
Av. Henrique Leal, 149
tuesday to Saturday from 10 am to 7 pm
Free
Casa do Maranhão 
São Luis (MA)
12 April – 12 June 2022
Trapiche st. s/n – Centro Histórico
tuesday to Saturday from 9 am to 6 pm
Sunday from 9 am to 1:30 pm
Free 
Sesc Campinas
Campinas (SP)
Dom José I St, 270/333 – Bonfim, Campinas
April 27 – July 31
Tuesday to Friday: 9 am – 9 pm
saturdays, Sundays and holidays: 10 am – 6 pm
free 
Sesc Rio Preto
Sao Jose do Rio Preto (SP)
Av. Francisco das Chagas Oliveira, 1333 
May 4 – July 31
Tuesday to Friday: 1pm – 9.30pm
saturdays, Sundays and holidays: 10 am – 6:30 pm
free